Heritage Bible Church





Tulsa/Catoosa, Oklahoma
Randy Crook, Pastor
The purpose of Heritage Bible Church is to glorify God: teaching His Word and the fundamentals of the faith as contained in the Holy Scriptures; providing a place of worship to build the Body of Christ through the edification of individual Believers; and presenting the Gospel of the Lord Jesus Christ at home and abroad.
Living the Legacy of God's Grace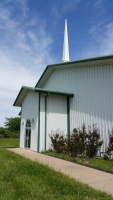 We've Moved!!
Join us for our first Worship Service in our new building on July 12th, at 10:45 a.m.

8205 E. 586 Rd., Catoosa, OK
2 miles east of the Creek Turnpike on Hwy. 412


We are Christ followers who aspire to become better disciples and to make more disciples of Jesus our Lord. A disciple is one who is mastering the art of living his life in the real world the way Jesus would live it. That is what we strive to be about: living our lives in the real world the way Jesus would live it. We are confident that this is attainable as God enables us through His Spirit and directs us through the Bible and prayer.
We chose to include Heritage in our name because it is descriptive of our appreciation to those faithful Christ followers who have gone before us and of our commitment to leave a legacy of faithfulness to those who come after us. The traditions we most appreciate and the ones we most want to pass on are a dynamic, intimate and personal knowledge of Jesus Christ, a conviction that the Bible is Godís Word preserved for us, and a commitment to reach out to our world in behalf of Jesus.


www.heritagebible.org


Website Design by WarePig

© Copyright, Heritage Bible Church, all rights reserved